This is not the first entry here, but it is the first entry in 2013, and since this blog just sorta got a new look, Welcome to Do The Molecule Dance! Also, I guess it is kind of an afterthought, because I didn't write a 'First Entry' when this blog started in October 2012.
So here goes.
Do The Molecule Dance started as a class assignment. I am currently in the science journalism graduate program at Boston University, and last semester, one of the most dedicated professors I've ever had (and I've had a lot of professors) made us create a blog and post at least twice a week. The assignment went on for three weeks. Which explains why, if you check out the earliest six entries, they are clustered in pairs within thirty-six hours of each other. It was always last-minute cramming to file the two entries before our Thursday/Friday deadline. (Also check out my classmates' blogs on the bar on the right!)
And when the assignment ended, the entries stopped. Which was not my original intent at all; I fully intended to keep posting even after the assignment was over. But as they say, or sing, in Les Miserables,
Life has killed the dream I dreamed.
And that was me making a terrible, terrible excuse for myself for not having the discipline to keep up my blog, and my yoga practice for that matter. Well, I did try to comfort myself by the thought that Do The Molecule Dance was not ready, it was a class assignment and I didn't have enough time to make it 'perfect' and if I were to 'unleash' it upon the world, it has to be good enough. But by that line of reasoning, it will never be good enough.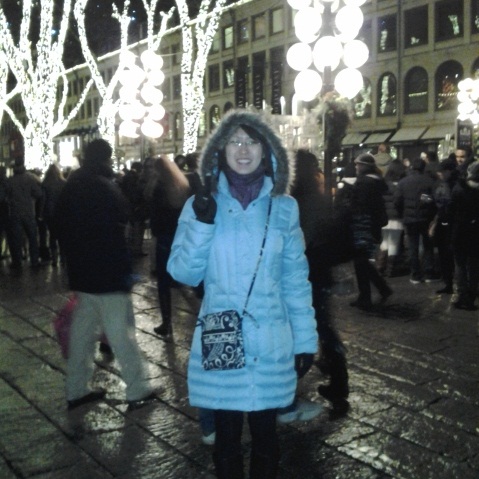 So my first semester at Boston University ended. And now, it's 2013. I've finally forced myself to sit down, edit whatever I didn't like about Do The Molecule Dance, and write an introductory post. Over the next few days, I'll be writing the posts that I should have written back in November and December, and I'll be posting them on the dates that they should have been published. And if I can muster up enough discipline, I will edit some previous stories that I wrote for class and put them up too.
Here's to not letting life kill our dreams! At least, not in 2013, because this is the year that I get to spend in beautiful Boston, in an amazing program at BU with wonderful people. Just can't wait.