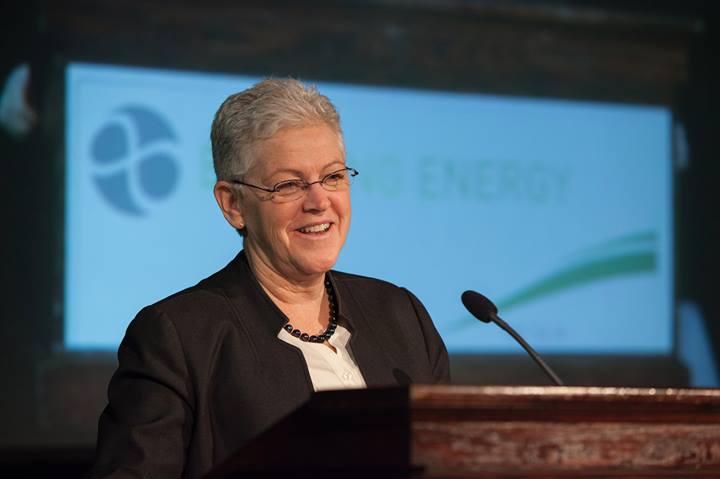 Yesterday morning, (for the first time!) I saw Gina McCarthy, the Administrator of the U.S. Environmental Protection Agency (EPA) speak at the Northeast Sustainable Energy Association's (NESEA) BuildingEnergy 14 conference, assuring hundreds of professionals at the opening keynote session that "with the EPA, you have a partner-in-crime." The BuildingEnergy conference hosts roughly two to three thousand experts from industry and academia showcasing their latest work in renewable energy and high-performance buildings. Most of us have probably heard about the EPA's work on efficiency for cars, especially at the gasoline pump. Now, it's time for buildings to come into focus as part of EPA's action for climate change.
Buildings consume a significant amount of energy and many of the old, leaky ones can be easily retrofitted with better insulation and ventilation to save a good amount of heat each winter. The one I'm living in right now is a Great Example. The greenhouse gases and pollution that buildings produce doesn't show up right outside our windows like it does in cars, but they do show up – typically around power plants in rural areas. And people who live and work around power plants are usually the ones who are already at economic and social disadvantage, compared to people who live and work in big cities like Boston. McCarthy emphasized the socioeconomic gap in the effects of climate change – those on the lower rungs of the ladder, exposed to more pollution and the like, will feel the effects to a larger extent. For them, "the Affordable Care Act is wonderful. Not needing care is even better. And that's what we're talking about here," McCarthy said.
So what can/will the EPA do? In her speech, McCarthy mentioned a new ruling for at power plants that the EPA will release in June to help "push the envelope" on the issue. According to McCarthy, the EPA is currently visiting leaders in different states and talking to them about what they need and want from policy to drive climate change action. NESEA Executive Director Jennifer Marrapese believes that that's the right strategy in developing a new ruling. Well, I hope that McCarthy and the EPA will come out with a real good ruling in June: one that gets stuff out of the way so that the real people developing and implementing solutions for change can keep doing what they do.