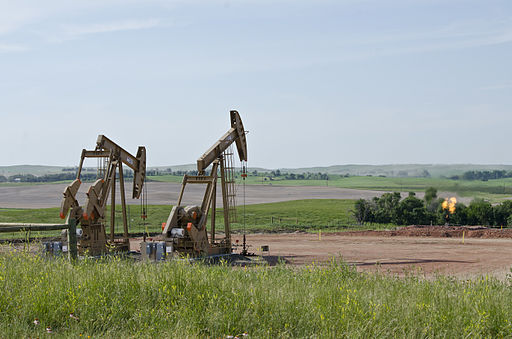 So now the States has become a major natural gas producer and wants to wield its power in the energy arena. Recently, energy came into play in the Ukraine crisis when Russia threatened Ukraine's natural gas supply, and the United States government began considering how to use domestic natural gas resources to "help" Ukraine out.
"One immediate step the president can and should take is to dramatically expedite the approval of U.S. exports of natural gas," Boehner said in a March 4 statement. "We should not force our allies to remain dependent on Putin for their energy needs."  – From Slate's Frack you, Putin! Could the U.S. battle Russia with natural gas exports?
While the Twitter hashtag #FrackYouPutin is probably one of the greatest I've seen, I think it is but an empty threat. Export facilities for natural gas require infrastructure and time for construction, and Ukraine does have some leverage over Russia with the natural gas pipelines that run through Ukraine, connecting Russia with its biggest natural gas customers in Europe. Mother Jones' James West sums up the situation neatly in this post.
INFOGRAPHIC: Map showing Russian gas pipelines transiting Ukraine pic.twitter.com/mFGotkQ5Y7

— Agence France-Presse (@AFP) March 4, 2014
I don't think the Ukraine crisis is a valid excuse to further develop fracking in the States. If anything, I think it is a cheap shot at advancing vested interests in fracking in the midst of a political situation. It is a great opportunity for energy reform in Ukraine, yes, but by reducing energy use and becoming less dependent on imported energy instead of switching supplier countries. Russia currently supplies Ukraine with 58% of their natural gas, the largest of Ukraine's energy imports. (Natural gas makes up 37% of Ukraine's energy sources. Coal is a close second at 33%.) Let's first look at how Ukraine uses all that gas.
Mostly, for heating. Ukraine experiences harsh winters and over 90% of the natural gas used goes to co-generation and heat plants, according to the International Energy Agency. However, much of that gas can actually be saved. Ukraine's housing is old and inefficient, making Ukraine one of the most energy intensive economies in the world. An ongoing project by the International Finance Corporation to help Ukraine improve building efficiency estimates that investment in Ukraine's residential housing efficiency can reduce natural gas consumption by 25 to 30%. That translates to almost half of what Ukraine currently imports from Russia.
More importantly, the United States does have technology and know-how in building efficiency and various other renewable energy technologies to contribute. Why offer Ukraine natural gas when high-performance buildings, wind and solar power, and electric vehicle adoption – stuff that can truly release Ukraine from Russia's, or any other country's, natural gas grip – could be on the menu? Germany already has an ongoing project with Ukraine focused on improving buildings in four selected Ukrainian municipalities. On Wednesday, EPA Administrator Gina McCarthy urged hundreds of professionals in high-performance buildings and renewable energy at the Northeast Sustainable Energy Association's BuildingEnergy 14 conference to sell their technology and expertise to China. Perhaps they could start with Ukraine instead.